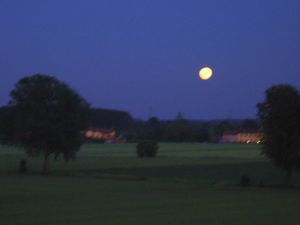 Un pianoforte in questa canzone, intitolata Echo di Jason Walker. Un grande effetto, non sonoro, ma visivo, in copertina. Vediamo una grande luna che sovrasta una città fantasma, oscurata dal buio. C'è solo questa eco, per l'appunto, che fa ripetere certe parole, certe lettere
Jason Walker – Echo
Ammanettati, Shackled per il gruppo americano Vertical Horizon. La canzone è contenuta nell'album Everything You Want pubblicato nel 1999.
Vertical Horizon – Shackled
Five For Fighting, nome non di un gruppo musicale, ma di John Ondrasik, artista nato a Los Angeles classe 1968. Dall'album  The Battle for Everything, del 2004, noi ci ascoltiamo questa canzone,
If God Made You, se il Signore ti ha fatto
Five For Fighting – If God Made You  
 
Rimaniamo agli anni '0 con i  Lifehouse e questo loro successo che li ha fatti conoscere al pubblico di massa.
La canzone si intitola Hanging By A Moment ed è contenuta nell'album di esordio No Name Face del 2000. Da questo loro primo lavoro, vari premi e riconoscimenti. Non c'è male come inizio, li propongo allora anche a voi
Lifehouse – Hanging By A Moment
 
Goo Goo Dolls, che letteralmente traduco le bambole appicicose. Potrebbero parlare di donne oggetto, invece cantano una canzone d'amore intitolata con il nome di una donna, Iris. Il titolo dell'album Stay With You, stare con te e in copertina una donna sdraiata su un letto con un'espressione sognante.
Nonostante il loro nome quindi, sentimenti veri e persone in carne ed ossa. Ascoltiamoli allora
Goo Goo Dolls – Iris